We acknowledge that Minnekhada Park Association operates within the traditional, ancestral and unceded territory of Kwikwetlem and Katzie First Nations. We thank the Kwikwetlem and Katzie who continue to live on these lands and care for them, along with the waters and all that is above and below.
Please join us if you: love the outdoors and nature, would like to be involved in the Farm Exploratory Team, are keen to see studied improvements made to the Park Farm and Lodge or you simply want to be involved with a group of park users who really care about our local treasure here in Coquitlam.
Click here for the Minnekhada Park Map PDF
Recent News and Updates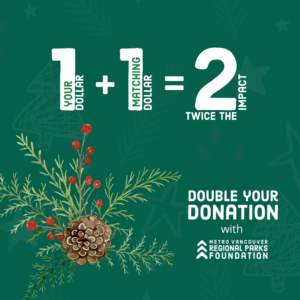 Park Partners Challenge – Donation Matching on Now
Minnekhada Farm Exploratory Team
Recently, the Minnekhada Park Association has formed the Minnekhada Farm Exploratory Team (MFET) for the purposes of recommending potential public uses for the farm and is working with Metro Vancouver Regional Parks and other organizations.
We'd love you to hear from you about what you think are the most suitable uses for the farm property. Your feedback will make an impact in the decisions that are made going forward. More details are on the Farm page. 
Please fill in our short 2 minute survey 
Click here to take the survey