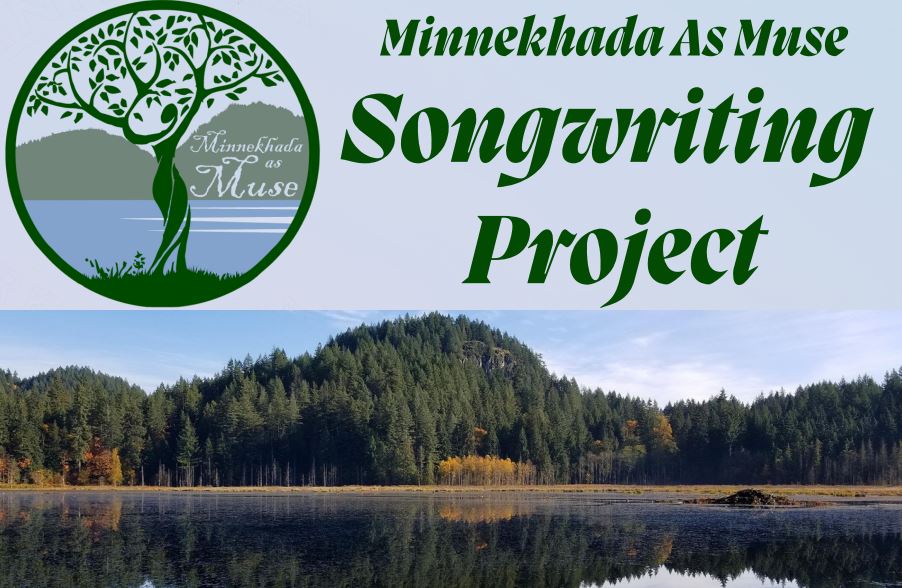 We seek to unite nature and creative groups through the artistic interpretation of Minnekhada's beauty in its many forms.
Introducing the "Minnekhada as Muse" Songwriting Project
Presented by the Minnekhada Park Association, with assistance from Metro Vancouver Regional Parks and the Metro Vancouver Regional Parks Foundation.
This project is an excellent opportunity for up and coming songwriters who want to receive some great advice and mentoring from some very experienced local songwriters and meet other talented people from the area, all while enveloped in, and inspired by,  a beautiful natural surrounding.
UPDATE Apr 22: Thanks to all those who have expressed an interest. This project is now at capacity and we have an excellent group of experience and new songwriters all keen to go and find the muse.
Who can participate? 
Established or budding songwriters that live in the Lower Mainland/Fraser Valley and are at least 16 years old. You do not need to be a musician, but musicians who create original content are most welcome. 
When is it happening?
The project will start on April 30th, 2023 with an initial meet up and will culminate in a performance event at the Minnekhada Lodge on June, 11, 2023. Once you join you will be able to view a more detailed timeline.
How much does it Cost?
FREE for all participants! You will receive an edited copy of your performance and retain full rights to your work. We kindly ask that you allow us to use your song for non-commercial purposes.
Are there Prizes?
Yes! More information to come!
How will it Work?
In a nutshell, there are three parts to the project;
Get Inspired: Discover the muse by visiting Minnekhada Regional Park as part of a meetup, by yourself, or both. 

Collaborate: Share ideas within an organized online community. Receive mentorship and advice from experienced songwriters (see below).

Performance Event: Perform your song at the beautiful and historic Minnekhada Lodge and receive a professional recording of your performance.
Click here for some background information about Minnekhada, that you may find helpful.

The Team
We are thrilled to welcome an amazing group of experienced area songwriters to act as mentors, including;
Ben Crosby (bencrosbymusic.com)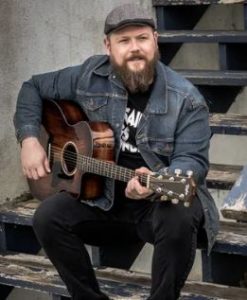 Citing musical influences like The Gaslight Anthem, Frank Turner, and Bruce Springsteen, Ben Crosby writes and records rootsy alt-folk rock songs. Between his work as an original recording artist, touring performer, and for-hire-entertainer Ben has played over 1700 professional gigs since 2013 (1707 at last count).
Born in Toronto, Canada and raised in the suburbs north of the city (Richmond Hill, ON) his 2014 debut solo EP "Shed Our Skin" took him from coast to coast performing his songs in clubs, bars, and cafes all across Canada.
A winter stretch of road shows from Toronto to Vancouver in 2017 ended with him permanently settling in lower mainland area of British Columbia and he currently calls the town of Port Coquitlam home.
His latest album "The Pandemic Sessions" was recorded in the early months of the 2020 Covid19 lockdowns and is a collection of previously unrecorded songs he's been performing live for several years.
Andrew Gordon (https://andrewgordonmusic.com)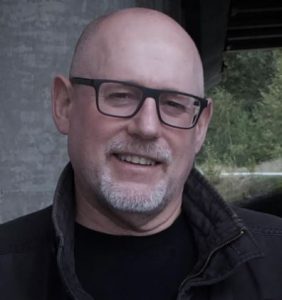 Involved in music in some way, shape or form for most of his life, Andrew started writing songs at 14. Needless to say, he is a late bloomer, coming back to writing in a focused way after raising a family and building a career in lighting motion pictures. Highlights of his performance career include gigging with The Toasters and Jack Semple in Regina, Saskatchewan.
A career highlight was being accepted into a songwriting Master Class taught by Pat Pattison, a professor of advanced lyric writing at The Berklee School of Music. Finding renewed confidence and inspiration, along with some new skills, Andrew wrote and recorded six songs over the past year. You'll find them on this site. Andrew is focused on recording a new group of songs that will be packaged and available everywhere you download or stream your music. Who knows? You may end up hearing his work in your favorite TV show.
Lola Parks (https://www.lolaparks.com/)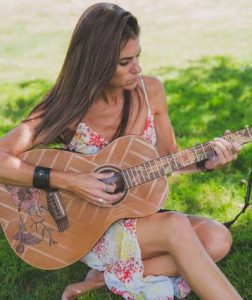 Lola Parks (Sandy Powlik) is a Soul Folk Pop singer-songwriter from Vancouver, Canada. Pop, Folk, Soul, Indie, Americana, Adult Singer-Songwriter, Adult Contemporary, her style is intelligent, intimate, evocative, boho chic and influenced by her Indigenous and European heritage while staying true to her jazz roots and pop sensibilities ALA Sara Bareilles, Brandi Carlile, Bonnie Raitt, Alicia Keys & Norah Jones.
With a growing 35-song One Stop catalogue with stems, Lola does Vocals, lyrics, melodies, songwriting, piano, acoustic guitar and vocal sessions, cowrites and collaborations in English, French, Spanish.
In 2022 Lola released singles: "You Are Light (Lynne's Song)," a tribute to Parks' recently late mama, "It'll Be All Right," on early loss of life (overdose, suicide) and "Never Alone," about a loved one not returning home. "Somber yet hopeful," she says of the recent releases, "with a resilience, acceptance and carrying-on: la vida sigue."
No Apologies, her 2020 album, features singles, "Dreamer" and two-time International Songwriting Competition semi-finalist "Freight Train." "No Apologies encourages us to own all of who we are, stand strong in our roots and our right to be, speak our truth and stand up to power," explains Lola. "The songs are about female empowerment, dialogue, forgiveness, and celebrating where we come from."
Parks has created a fiercely independent musical history: 5 studio recordings; 5 continents, multiple awards (Female Songwriter of the Year, Outstanding Vocal Jazz Musician), tours & TV/film/radio syncs incl. CBC's "The Early Edition" theme song. Recent signings include with Madden Flow Entertainment, Sentric Music and Songtradr (US, UK). Stay tuned for more in 2023!
The Songwriting Team of Ivan Boudreau (https://soundcloud.com/ivanboudreau) and John Bowman (https://johnbowman.ca/)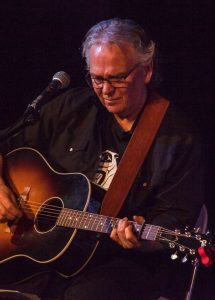 Ivan Boudreau has been a professional musician/songwriter and wandering minstrel for over 45 years, with deep roots in Nova Scotia, youthful years in Boston, Toronto and now calling British Columbia home.
Ivan has a driving passion for stories and songs that are honest and heartfelt.
"Music and songs keep me alive!"
John Bowman was born in Guelph, Ontario in November, 1954, the oldest of four kids. After living near Oshawa for a few years, the family moved to the north end of Winnipeg in the early sixties. Shortly thereafter, John began taking guitar lessons at a local accordion studio. John played in a number of different rock bands in Winnipeg during the early seventies and attended the University of Winnipeg receiving a B.A. Hons, a four year program with a major in History. While going to university John began to perform as a solo singer/songwriter and wrote a large number of songs, (most of them very bad). While at the university John worked on the weekly student newspaper eventually editing the paper. In 1978, John moved to Vancouver to take a job with a union editing a newspaper. John worked for the union, which became the CAW,(now Unifor) for thirty years.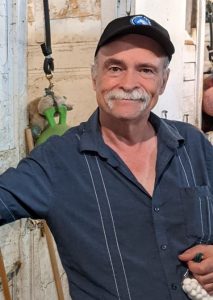 John has been married to Diane for over thirty years and has three sons, Daniel, Cameron and Mitchell, who are all living in the Vancouver area. In the fall of 2007 John and Diane moved to Ottawa in order for John to take a different job with a federal government board. Since the original move to Vancouver in 1978, John had not been able to put much time into music due to work and family priorities. After the move to Ottawa, and some exposure to the music scene there through attending some house concerts, John decided to resume writing songs and performing. Playing mostly at open stages, John was able to get important feedback about his songs, which has influenced the choice of material on his CD.
John and Diane have moved back to Vancouver, and a second CD, "Alone on a Saturday Night" – which was recorded in both Vancouver and Ottawa – was released late in 2013. This was followed by "Tourist Town" in 2016 and most recently, a fourth CD, "Love, Grace and Gratitude" in 2019. Now freed from regular employment, John is writing more songs, playing more often at various venues in the Greater Vancouver area, (primarily Farmer's Markets and craft breweries), and working harder on learning the craft of songwriting, including working more with other songwriters.
The Songwriting Team of Lucy LeBlanc (https://soundcloud.com/user-765168609-959623814) and Dave Stanley Daoust (www.davestanleyband.com)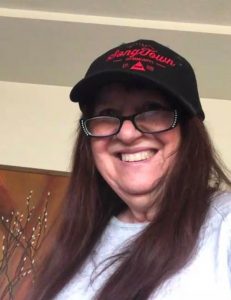 Lucy LeBlanc is a Canadian songwriter, with a passion for music that ranges from folk songs to rock. Lyrics are her speciality and she has been involved in multiple co-writes with songwriters from Australia, Europe, US and Canada. Lucy is a prolific songwriter, currently co-writing about 200 songs per year!
Lucy's songs have been recorded by several indie artists, others are currently under consideration by other artists and for film and TV projects.
She has mentored with Songtown.com, Pat Patterson and Jason Blume.
Lucy also won the American Songwriter magazine's lyric contest.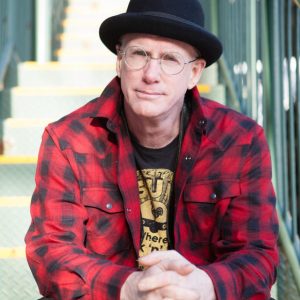 Dave Stanley Daoust is a talented musician from Surrey, British Columbia, whose eclectic style blends Country, Rock, Gospel, and Canadiana. He has released three critically acclaimed albums, with songs like "Bobby Orr" and "Lights Out" earning widespread airplay on radio stations and sports stadiums across North America. Dave's songwriting is emotional and relatable, drawing listeners in with catchy hooks and unforgettable melodies. He is also a collaborator at heart, constantly seeking out new ways to expand his creative horizons by co-writing with local writers and connecting with fellow musicians around the world via Skype. With his unique sound and growing critical acclaim. Songwriting awards include BC Songwriting Magazine song of the year (Bobby Orr) and Canadian Country Music Association, up-and-coming songwriter.
Sound and recording by Jordain Culpepper and Ben Crosby at Coast Meridian Music (https://coastmeridianmusic.com/)
Event Planning: Celia DeLuca, Steve Smith and Esmeralda Martinez

Questions? Need more information? Please email coordinator@minnekhada.ca
Minnekhada Background Info
Here is some background information about Minnekhada that you may find helpful in your songwriting.