Starting in 2021 and working together with the BC Community Bat Program (BC Bats), the Minnekhada Park Association took on responsibility for bat stewardship within Minnekhada Regional Park, carrying on from the excellent work that was done in the past by the Burke Mountain Naturalists and others.
In October of 2020, armed with funding from Metro Vancouver Regional Parks Foundation (formerly Pacific Parklands Foundation and the knowledge and skills of local experts we completed construction of an innovative "bat condo" on the grounds of the Minnekhada Farm property, part of Minnekhada Regional Park. This condo provides a safe home for over 1000 smaller species bats, namely Yuma Myotis and Little Brown Myotis, who currently roost in some of the dilapidated structures on the farm. The condo has been improved recently to now include an additional smaller bat box for larger species such as Hoary Bat and Big Brown Bat.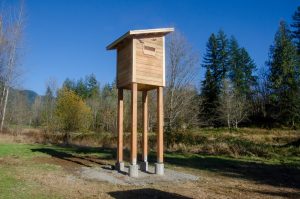 Bat Condo completed October of 2020. Design by Kyoshi Takahashi.
Also at Minnekhada Farm we have a somewhat unique maternity colony of Townsend Big Eared Bats. This is only of only a few such colonies in Southwestern BC.
Every year now since 2021 we have gathered our dedicated volunteers together to count bats, mostly on the farm property. We brave weather, mosquitoes, curious bears and protective barn swallows on summer evenings. We also take acoustic and temperature readings and do foraging surveys. It is a low impact, educational, useful and fun activity.
All of our data is provided to BC Bats as part of their overall mission to study our BC bat populations and educate the public about the importance of bats to our ecosystem. Here is a summary of our work so far;
Bat Count Monitoring Summary 2023
Check out our Nature Guide page for links to more information about bats.
For more information, or to get involved in our bat counts please see our Contact Page.