Invasive plants are a huge concern within the Lower Mainland. Working under the guidance of Metro Vancouver Regional Parks, we co-ordinate volunteer work parties to remove invasive species from within the park boundaries, typically targeting specific areas of concern. Some of the more common invasive species we remove are;
Scotch Broom
English Ivy
Non native Hollies
Periwinkle
Purple Loosestrife
Other as directed
Tools, water and snacks are provided.
Any plant removals that will result in ground disturbance require the approval of the archaeological branch in order to insure no historical artifacts are disturbed.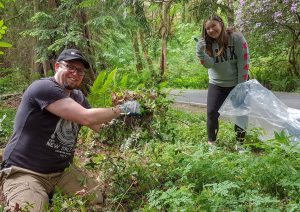 In addition, we may assist with restoration efforts, such as replanting of non-sanctioned trails or fire affected areas.
To see if there are any upcoming opportunities please check our volunteer page.
To see more images from previous invasive plant removals please see this gallery.